The Big Loop Water Park
Edit
The Big Loop Water Park is a waterpark showcasing Water Slides, Swimming Pools and other Aqua Attractions. It has an underwater sea tunnel and a dome where wizards learn Water - Based spells such as Aguamenti and Aquo eructo. They can also go in the Splash KaBlam! Center to play with their friends and splash their way to fun.
Water Slides
Edit
Dumbledore's Drop - A slide that features A high point called Dumbledore's Peak sliding down to the bottom. Visitors can enjoy maximum water fun as they dive into a water slide so fast that the water will splash in your face.
Rio El Fantastico - is a large slide where visitors can ride on a circular raft downstream with the maximum of 8 persons. The sliders will witness a museum like slide with portraits about merpeople while fastly Rippling down the Water.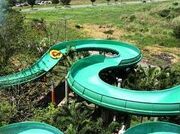 More Info Coming Soon
The Wave Pool
The Lazy River
The Hundred Deep Water Hole
Granada Falls
Carribean Jacuzzi
The Pool of Dumbledore
Mermaid Lagoon
Swirly Wirly Pool
FishHead pool
Aquantique Fertioso Pool
Pool Del Amor
Other Amenities
Edit
Splash KaBlam! Center
The Shellstastic Gift Shop
The Underwater Sea Tunnel
Dome of Water Learning
The Songs of the Sea water Show
WaterWorks Show
Marine Animals Tattletale
Water Life Museum
Underwater Subway
WaterBooks
Swimming Equipment and Clothing Shop
Dolphin Swimming Area
Seal Kissing Booth
Whale Sighting Port
Ad blocker interference detected!
Wikia is a free-to-use site that makes money from advertising. We have a modified experience for viewers using ad blockers

Wikia is not accessible if you've made further modifications. Remove the custom ad blocker rule(s) and the page will load as expected.