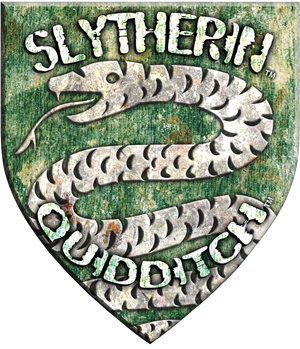 Team MembersEdit
​CHASERS:
BEATERS:
KEEPER:
SEEKER:
CAPTAIN:
SUBSTITUTES:
For those who want to join the Slytherin Quidditch Team, fill in the table below.
CHARACTER NAME/HOUSE/YEAR
POSITION AND WHY
USERNAME AND TIME
TEAM CAPTAIN'S APPROVAL
Tulula Greengrass, Year 5, Slytherin
Chaser because I am Fast and Furious and would catch and Score the Ball when we always need it!
Harryvlas123 19:42, January 21, 2012 (UTC)

Cosmiggy

- The World is Beautiful

03:01, January 22, 2012 (UTC) Hello, If you would like to be captain of the Quidditch team, just send me an owl. Tnx.