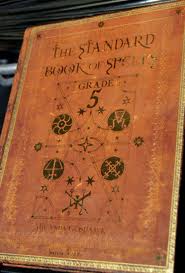 GET YOUR SCHOOLBOOKS HERE!Edit
School Books Available:
1. Defense Against The Dark Arts:
The Dark Forces: A Guide To Self-Protection
Defensive Magical Theory
Confronting The Faceless
2. Charms:
The Standard Book of Spells (Year 1,Year 2, Year 3, Year 4, Year 5, Year 6, Year 7)
Quintessence: A Quest
3. Transfiguration:
A Beginner's Guide To Transfiguration
A Guide to Advanced Transfiguration
Intermediate Transfiguration
4. Potions:
Magical Drafts and Potions
Advanced Potion-making
Moste Potente Potions
5. Herbology:
1000 Herbs and Where To Find Them
Encyclopedia of Toadstools
Flesh-Eating Trees of The World
Magical Water Plants of the Mediterranean
One Thousand Magical Herbs and Fungi
6. History of Magic
7. Ancient Runes:
Ancient Runes Made Easy
Rune Dictionary
Magical Hieroglyphs and Logograms
Spellmas's Syllabary
Advanced Rune Translation
8. Arithmancy:
Numerology and Grammatica
New Theory of Numerology
9. Muggle Studies:
Home Life and Social Habits of British Muggles
10. Care of Magical Creatures:
The Monster Book of Monsters
Fantastic Beasts and Where To Find Them
11. Divination:
The Dream Oracle
Unfogging the Future
ORDER HEREEdit
On the items column, only put your year and then put set beside it. Example is 2nd Year Set.
CHARACTER NAME
ITEMS
USERNAME AND TIME
ADMIN APPROVAL
Jeff Cope
Unfogging Future
Carptow 15:27, January 20, 2012 (UTC)
Hyugabyakugan12 (-_-)Itadakimasu!(o_O) 00:54, January 21, 2012 (UTC)
Gregory Johnson
6th Years Book Set, Quidditch Through the Ages plus one QUIDDITCH! : Special Captain's Guide

Cosmiggy

- The World is Beautiful

04:06, January 21, 2012 (UTC)

Cosmiggy

- The World is Beautiful

04:06, January 21, 2012 (UTC)
Erylla Seraphim
4th Years Book Set, Tales of Beedle the Bard and one copy of Wizarding Sports Mag.

Cosmiggy

- The World is Beautiful

04:06, January 21, 2012 (UTC)

Cosmiggy

- The World is Beautiful

04:06, January 21, 2012 (UTC)